Lemon & Blueberry Greek Yoghurt Muffins
With me going away on Holiday in less than a week, it's time to use all the items in the fridge which in this case was half a pot of Greek yoghurt! I have not really cooked with Greek yoghurt before only had it with stewed fruit or on my granola! So this was a total experiment, but it was a good one!
Prep time:
Cook time:
Total time:
250g Plain Flour
1 tsp Baking Powder
1/2 tsp Baking Soda
1/8 tsp Salt
36g Light Soft Brown Sugar
1 Egg
60 ml Milk ( I used Semi-Skimmed)
2 tbsps Olive Oil
Juice & Zest of 1 lemon
1/2 tsp vanilla extract
368g Full Fat Greek Yoghurt
75g Blueberries, Washed
Equipment
12 Hole Muffin tin with 12 cases
Large Bowl
Medium Bowl
Sieve
Wisk
Dessert Spoon
Wire Cooling Rack
Method
Preheat the oven to 190℃ (170℃ Fan)/ 375℉/Gas Mark 5. Make sure your oven self is the middle
In a large mixing bowl, sift flour, baking powder, baking soda, and salt. Whisk in sugar & the blueberries. Set aside.
In a separate bowl. whisk together egg, milk, oil, lemon zest, juice and extract. Whisk in yogurt.
Add wet mixture all at once to the dry ingredients. Stir just until moistened.
Fill muffin liners ¾ full using a dessert spoon, or ice cream scoop
Bake for 25 minutes to when a cake tester comes out clean
Completely cool on a wire rack.
I'm sharing this with with these linkies :
No Food Waste Challenge
I used items up in fridge before holiday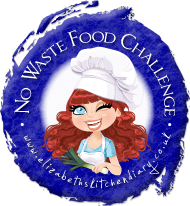 I am entering these into this month's Credit Crunch Munch, ran by
Fuss Free Flavours
and
Fab Food 4 All
, this month hosted by
Baking Queen
. I used ingredients in my fridge that needed using up to make these muffins.