Hi everyone I'm back from my holiday to Vegas, I will be doing a review of the restaurants I went to in my next post, but as usual when you come back from your holidays you do a massive shop as you have nothing in your cupboards, but always forget one thing! I though I would do a small bake this week, to get me back into the swing of things, plus I'm also busy with work to bake a batch of cupcakes :(
Strawberry and White Chocolate Cookies
Preparation time: 15 minutes
Cooking time: 20 minutes
Total time: 35 minutes
Makes: 14
Ingredients
112g Unsalted Butter, softened
112g Golden Caster Sugar
75g Condensed Milk
175g Self-Raising Flour
25g White Chocolate Chips
1/2 a tube of Freeze Dried Strawberries
1/2 tsp Vanilla Extract
Equipment
2 Baking Trays
Large Bowl
Wooden Spoon
Spatula
Metal Spoon
Wire Cooling Rack
Method
Preheat the oven to 180ºC (160ºC Fan), gas mark 4. Line 2-3 baking trays with baking parchment.
In a large bowl, cream together the butter and sugar until light and fluffy. Stir in the condensed milk, followed by the sifted flour.
Mix in the chocolate chunks, extract and the freeze dried strawberries
Divide the dough into 14 walnut sized balls, place on the prepared baking trays and flatten slightly with the back of a spoon, allowing plenty of space for spreading.
Bake in a preheated oven for 16-18 minutes until golden and risen, but a little soft in the middle. Leave to cool slightly on the trays before cooling on a rack, then serve.
I'm Sharing this with these linkies:
Recipe of The Week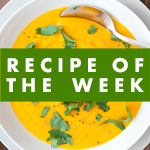 Cook Blog Share - which is being held by
Supergolden Bakes
&
Patisserie Makes Perfect
Bake of The Week